Automatic Moment Capturing
SimCam Baby is not only a life-saver, but your baby's personal photographer as well. It automatically takes a snapshot whenever it detects your baby's face in the middle of the frame. Capture cute moments and cheerful memories that happen when you're not looking.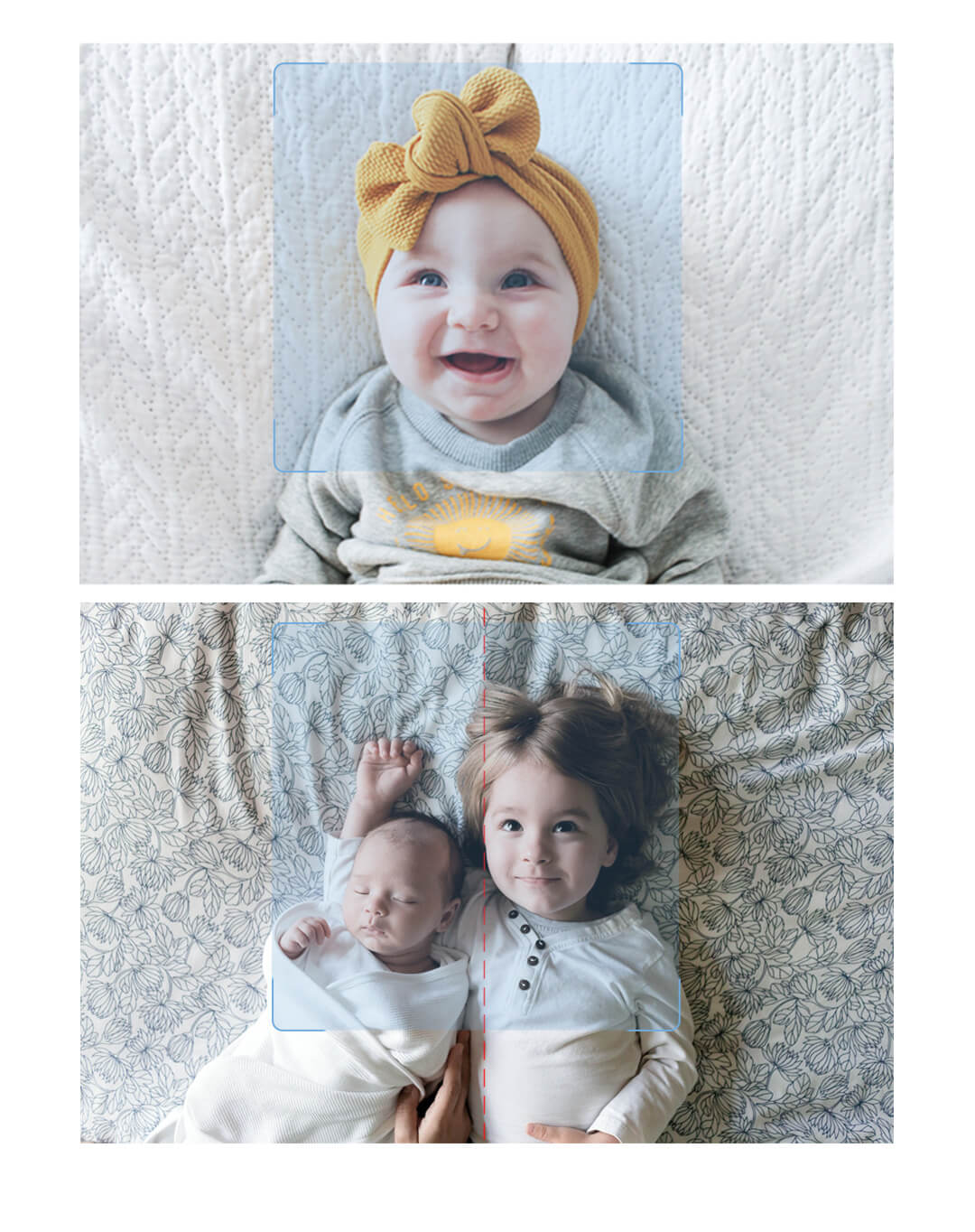 Get the Best View of Your Baby
A crib holder that comes with the baby monitor provides you with an overhead view of your baby. You can manually adjust the height and the pan of the holder to your desired view. The aluminum body keeps the camera in place while the C-clamp ensures the holder will not pop out of the crib.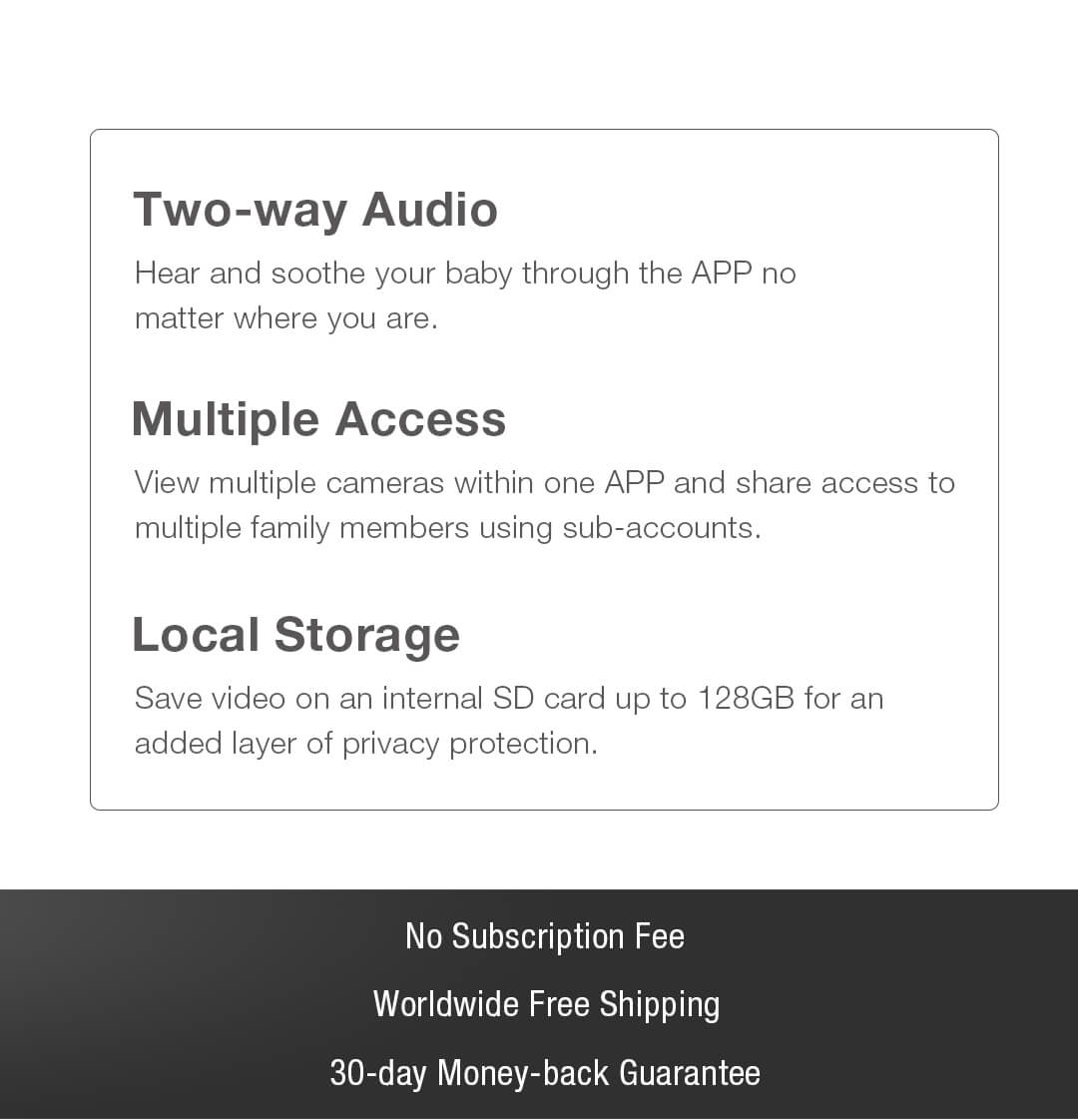 If you have any questions or concerns, please do not hesitate to contact us.
Many questions can be answered on our FAQ.
Design
Dimension: 5.2in. X 5.2in. X 4in. (132mm X 133mm X 103mm)
Weight: 0.77lbs (350g)
Power Cable Length: 6.5 feet (2 meter)
Color Options: Blue
AI Processor: T31X
Camera
Image Sensor: GC29053
Video Resolution: 1920X1080
Field of View: 105°
Focal Length: 3.3mm
Night Vision: 840nm invisible LEDs | illuminate up to 32feet (10 meter)
Video Format: H.264
Mechanical Tilt: 0°~75°
Operating Temperature: 32 ℉ ~ 104 ℉ ( 0 ℃ ~ 40 ℃)
Connectivity Requirements
Dual Wi-Fi 802.11a/b/g/n 2.4GHz & 5GHz
Power Supply
AC adapter Input: 100-240V AC, 50/60Hz, 0.65A
AC adapter Output: 5V DC, 2A
Storage
Micro SD card up to 128GB
APP Compatibility
IOS, Android 4.0 or later
In the Box
1 X Camera
1 X Power Adapter
1 X USB Type-C Cable
1 X Wall Mount
1 X Screwdriver
1 X Crib Holder
1 X 3M Adhesive Tape
1 X Quickstart Guide
1 X 16GB SD Card
Screws & Wall Anchors
Good monitor, some issues
We have ordered two of these monitors, and they work great! We had one small issue with our screen turning white and fuzzy, but we were able to get it working back to normal.
Great baby monitor and app to access camera on phone
I should have done this when we had our firstborn. I wanted to have a monitor, though. I WAS WRONG! I always have my phone and this is amazing. The app is easy to use and compatible with my Echo show to use as a monitor. It is so great, the image is clear, easy setup and GREAT customer service. I've had no issues and love this thing. Now I want more for security cameras!
Good for the most part.
Great value for all the functions it comes with. The picture quality and sound is good for the price. It's also nice that it has night vision and you can adjust the view in the app However, the app was a massive pain to set up. It wouldn't let me create an account (okay no problem) I did the extra steps listed in case I had that problem. Still couldn't create an account. After about 2 hours my boyfriend finally got it to work.
Good Baby Monitor
So this camera is very high tech with lots of cool features. It has great video and audio quality. If I had to redo buying a monitor, though, I'd probably buy a different one. This is why - first, there is no included screen, you can only view the stream on your phone. This is usually fine, but sometimes you want to leave it open, and then you can use your phone/it's running all night. The second reason I'd go with a different monitor is because it's not easy to transport. First, it doesn't just hook up with your phone with Bluetooth - you have to have a WiFi network to set it up. Second, although the box includes a crib holder, but this makes it really hard to move. I would like to have one that I could easily bring on vacation or over to the grandparents.
Works as advertised
We recently got this monitor for our newborn. It was easy to install (did not need any additional mount) and the ability to zoom and rotate is good. We are also happy with the night vision. One thing that could be improved is the sound. There is a short 1-second delay in sound and there is also some feedback and echoing.