Automatic Moment Capturing
SimCam Baby is not only a life-saver, but your baby's personal photographer as well. It automatically takes a snapshot whenever it detects your baby's face in the middle of the frame. Capture cute moments and cheerful memories that happen when you're not looking.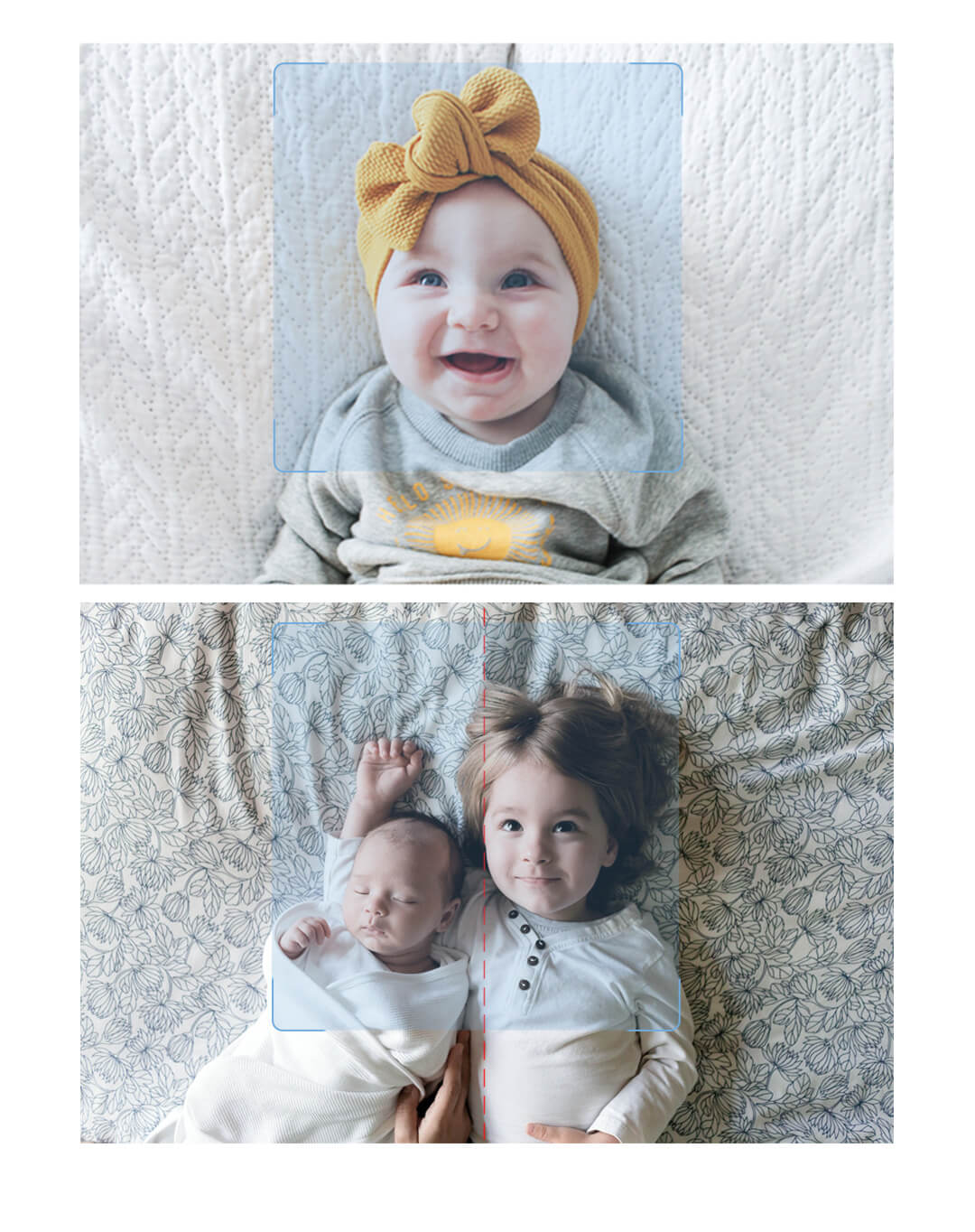 Get the Best View of Your Baby
A crib holder that comes with the baby monitor provides you with an overhead view of your baby. You can manually adjust the height and the pan of the holder to your desired view. The aluminum body keeps the camera in place while the C-clamp ensures the holder will not pop out of the crib.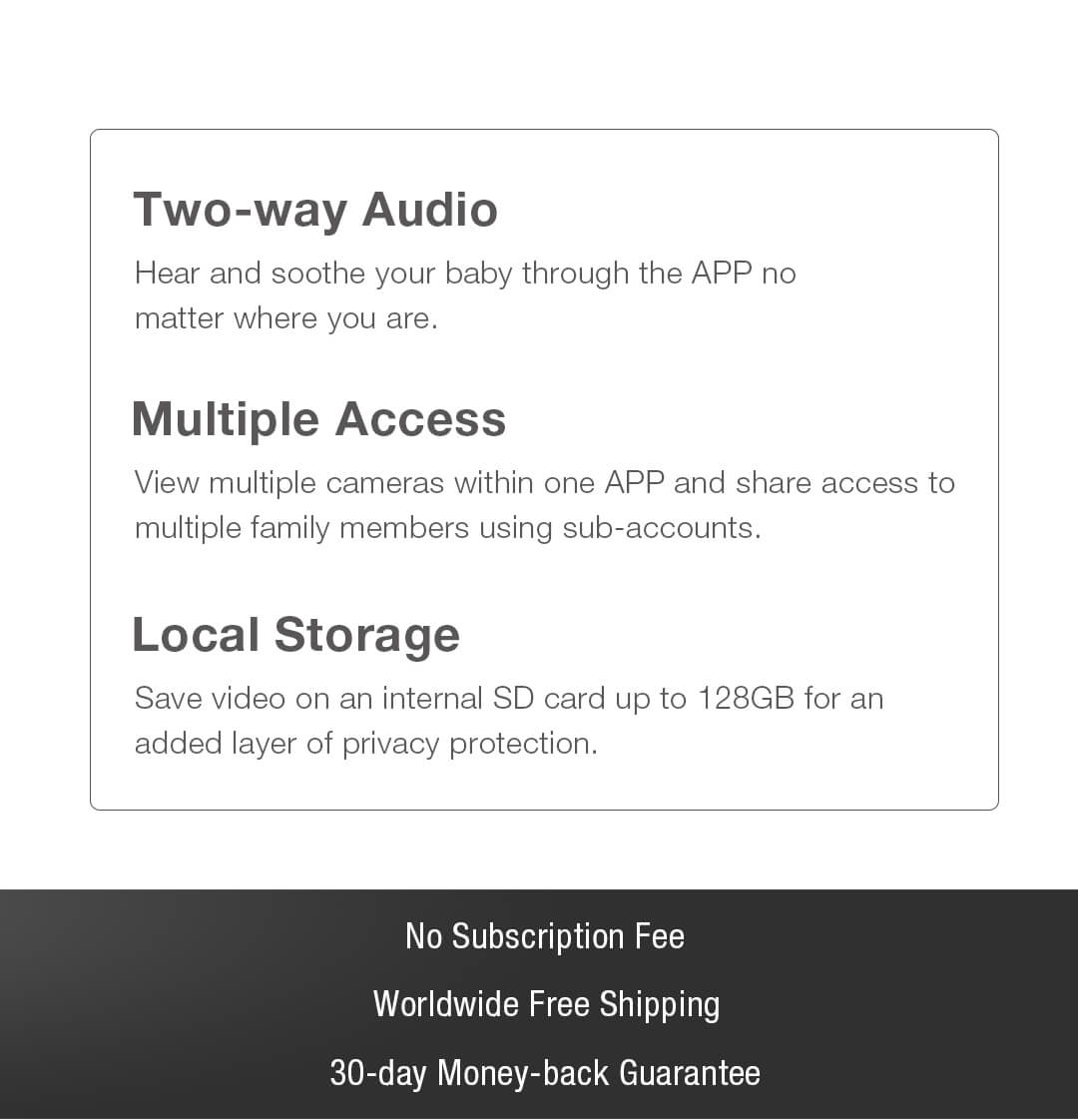 Design
Dimension: 5.2in. X 5.2in. X 4in. (132mm X 133mm X 103mm)
Weight: 0.77lbs (350g)
Power Cable Length: 6.5 feet (2 meter)
Color Options: Blue
AI Processor: T31X
Camera
Image Sensor: GC29053
Video Resolution: 1920X1080
Field of View: 105°
Focal Length: 3.3mm
Night Vision: 840nm invisible LEDs | illuminate up to 32feet (10 meter)
Video Format: H.264
Mechanical Tilt: 0°~75°
Operating Temperature: 32 ℉ ~ 104 ℉ ( 0 ℃ ~ 40 ℃)
Connectivity Requirements
Dual Wi-Fi 802.11a/b/g/n 2.4GHz & 5GHz
Power Supply
AC adapter Input: 100-240V AC, 50/60Hz, 0.65A
AC adapter Output: 5V DC, 2A
Storage
Micro SD card up to 128GB
APP Compatibility
IOS, Android 4.0 or later
In the Box
1 X Camera
1 X Power Adapter
1 X USB Type-C Cable
1 X Wall Mount
1 X Screwdriver
1 X Crib Holder
1 X 3M Adhesive Tape
1 X Quickstart Guide
1 X 16GB SD Card
Screws & Wall Anchors
Highly Recommend!
I got this baby monitor for my daughter and her baby. She really loves it. The image quality is really great and the fact that they can detect baby crying and play music automatically when you are not beside the crib. I would definitely recommend this product.
Best purchase!
It's amazing and we love it! Its everything we were looking for in a baby monitor. It blew away my husband expectations. My son loves that we can talk to him through it. It lets him know we are still there
That's great
The item was packaged a very nicely. Instructions were easy. Set up was easy. Connection was good. Was able to use to monitor our baby. Would definitely recommend this product.
Pretty good
Just got this and love the camera options. I only wish the camera was able to powered by batteries. But great price for the product!
Amazing camera!
This camera has met all my standards! I can now keep an eye on my baby when I am doing housework. I love it and would recommend it to anyone with baby!